Truth Revolt.org
January 27, 2014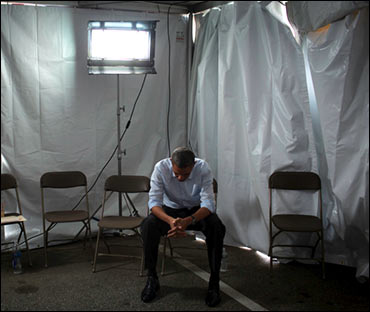 On the eve of President Obama's State of the Union Address, a new poll from
Washington Post
-ABC News
shows
that fully 63 percent of Americans have either little or no confidence Obama will make the right decisions. The public is evenly split on whether Obama is
honest and trustworthy
, with 49 percent of Americans answering in the affirmative, and 48 percent answering negatively.
A
bare majority
of Americans, 52 percent, feel Obama does not understand the problems of people like them – a shocking downward turn for Obama on an important likeability issue on which he dominated in 2012. A majority of Americans.
51 percent
, also believe Obama is not a strong leader. His disapproval rating stands currently at 50 percent, with 41 percent
disapproving strongly
– only 23 percent support him strongly. 50 percent of Americans have an
unfavorable impression
of the president.
Read more